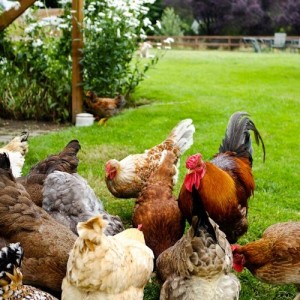 Thanks to recent natural disasters and other catastrophes, a lot of people have started to see the value of food storage. Of course, if the idea of living on canned ravioli and tuna fish doesn't sound all that appealing to you, you may consider keeping chickens as part of your food storage. Not only do they make eggs appear every day like magic, but they also provide you with a fresh chicken dinner while you are waiting to have access to the grocery store again. Unfortunately, chickens don't remain happy and healthy tucked away on your pantry's shelf, so here are some tips to get you started.
1. Check the Law Books
Nobody likes confrontation—especially with the police and most definitely not with that nosy homeowner's association lady (you know the one). So before you bring home those cute little chicks, check out the local laws and subdivision rules to make sure you are allowed to have them. Clear the idea with your neighbors if they are close as well.
2. Select the Right Breed
If you live in someplace like North Dakota, getting chickens that are used to hot climates won't survive through that long, cold winter. When selecting a breed, research which breed will thrive best in the climate you live in. On top of climate, look at whether the breed is known to lay f (Read More....)