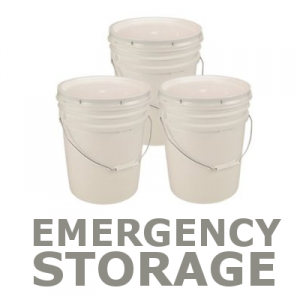 Stockpiling food and water is not only a great idea, but can save your life in the event of a natural disaster or emergency. Purchasing food, water, and life-saving products is the fun part, but what about organizing your inventory?
Although it can be tedious and boring, a well-organized stockpile can help you keep track of what you have, what you still need to purchase, and what has expired. It also makes accessing your stockpile easier in an actual disaster where you need to act quickly. Follow these tips to organize your stockpile to be even more prepared for your worst-case scenario.
Think About the Space You Have
The first thing you'll need to do when organizing your emergency food and water stockpile is to think about the space you have on hand. If you have an entire room dedicated to stockpiling, it may be easier to organize than if you only have a kitchen cabinet or a few shelves. When purchasing inventory, keep this in mind and don't buy more than you can store - you'll end up wasting it.
Organize by Type
For easy access to what you need, when you need it, organize your stockpile by the type of product. Keep your water, grains, sauces, vegetables, fruits, and any other inventory you have sorted and organized by the product type. Don't mix and match. You'll end up forgetting what you have, or you'll have trouble finding what you ne (Read More....)
[...]