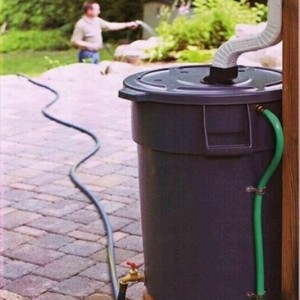 Don't let a drizzly day put a damper on your mood -- with a little preparation, those raindrops can save you and your community some serious money. Each gallon of rainwater that's harvested -- meaning collected and saved for later use -- equals a gallon of treated city water that can be used in other places.
It also helps the environment by reducing erosion and evaporation due to runoff and keeps pesticides and fertilizers out of groundwater. Once harvested, rainwater can be used to water your garden, provide drinking water for animals, and in some cases, serve as drinking water for your family.
The Basics
Start by figuring how much water you want to harvest. A typical 25-foot by 40-foot home can divert approximately 600 gallons of rainwater in one hour of moderate rainfall. How much of that you decide to store should be based on your water needs -- someone who is simply using their harvest to water a moderate-sized garden doesn't need as much rainwater as a farmer looking to irrigate their field or provide drinking water for large livestock.
The most common way to harvest rainwater is collecting the water that runs off your roof by diverting it through gutters and downspouts that drain into a water barrel. Your home likely already has (Read More....)
[...]