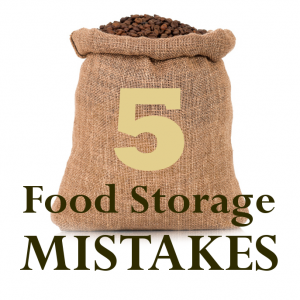 When stockpiling for the unknown, it's easy to focus only on the basics and not consider what your actual day-to-day existence will be like. If you're only out of action for a day or two or three, the bare minimum will suffice, but any longer than 72 hours, even non-perishable food becomes questionable, storage becomes much more important, and psychological food burnout becomes a real risk.
Follow this guide to making sure you've planned well for an event none of us had planned on.
Dented Cans
Canned goods are the backbone of food storage. They keep for a long time, they're easy to store, they're already cooked and are ready to eat, and they provide variety to prevent food burnout. They can also kill you.
Dented cans are likely to contain tiny punctures that are invisible to the naked eye. Those punctures let in air that can breed harmful - even deadly - bacteria such as botulism. Never consume food from a dented can.
Forgetting Necessary Basics
Don't forget shortening, salt, cooking oil, yeast, powdered eggs, baking powder, and baking soda. Even the most basic recipes require one or more of these ingredients to cook. It is tasty food cooked from good recipes that will prevent food burnout.
Vitamins
Pack plenty of multivitamins. Although there is no substitute for quality food, multivita (Read More....)
[...]