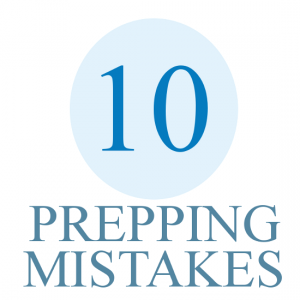 by M.D. Creekmore
"What's the most common mistake made by new survivalist? How can we avoid it?" – asked by Matt via email.
Here are a few quick mistakes that I see new survivalist making (and some, I've made myself). They're listed in no particular order and I'd love for you to continue the list in comments below:
1. Giving up to early – Many new survivalist start out with a load of energy only to run dry, giving up before meeting their goals. The main reason – they think they have to spend thousands of dollars on a retreat, survival food and arsenal, money that they don't have – so they give up all together.
2. Putting off starting – Procrastination is something we've talked about before, but is worth mentioning again. Don't put off starting your preparedness program. The number one excuse given is a lack of money – see point one above. (see my article – How to Stop Procrastinating and Start Prepping)
3. Not making their own plan - Many new survivalist (aka preppers), not knowing where to start attempt to follow the plans of others. Granted there will be a lot of sim (Read More....)
[...]