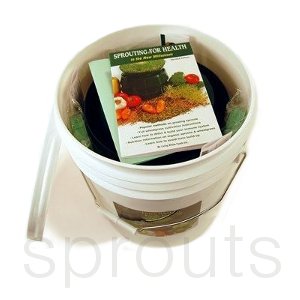 Upgrade Your Emergency Food Storage with Living Food! Add to your emergency supply with fresh grown, living, nutrient rich, healthy and delicious sprouts to your stored food. Sprouts are very easy to grow. The Handy Pantry Food Storage Sprouting Kit includes everything that you need to grow fresh sprouts in just a few days. This kit is certified Organic Sprouting Seed with a High Germination Rate. This kit contains 16 Lbs of Dry Packed Oxygen Free Seed For 20 Year Shelf Life. The kit is packaged into a re-sealable 5 gallon bucket. This kit grows over 200 Lbs of healthy nutritious sprouts, which you can add to your powered dry food, for something fresh to eat. The only thing you need to add is water! This set retails for about $120.
The kit includes:
- The Handy Pantry Family Sprout Garden
- An easy to use variable volume, stackable tray sprouting system.
- 3 Sprouting Jar Strainer Lids. These strainer lids fit any Mason, Ball or Kerr canning jars.
(Convert your canning jars into sprouters to increase sprout growing volume if needed.)
- Sprouting For Health In the New Millennium Booklet
- Complete detailed instructions on growing sprouts using the sprouting tray or sprouting jar methods.
-16 Total Pounds of Certified Organic, Oxygen Free Dry Packed Seed —Alfalfa - 5 lbs - dry packed can —Mung Bean - 2.5 lbs - re-sealable bag —Protein Powerhouse Mix - 2.5 lbs - re-sealable bag (Garbanzo, Green Pea, Adzuki Bean & Mung Bean) —Red Clover - 1 lb - re-sealable bag —Green Pea - 1 lb - re-sealable bag —Radish - 1 lb - re-sealable bag —Bean Salad Mix - 1 lb - re-sealable bag (Adzuki Bean, Mung Bean, Green Lentil & Radish) —Crunch Lentil Fest Mix - 1 lb - re-sealable bag (Green Lentil, Red Lentil & French Lentil) —5 Part Salad Mix - 1 lb - re-sealable bag (Alfalfa, Broccoli, Radish, Mung Bean & Green Lentil) ——Retail Value Over $160