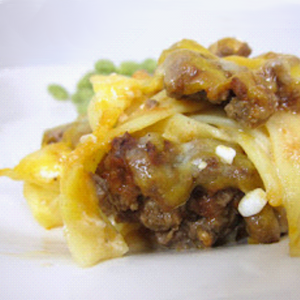 With the prices of food constantly rising, feeding your family gets more expensive every day. The trouble is that making homemade meals is often a chore we dread. Well, not anymore! Through the miracle of Pinterest, I have found some great recipes that are not only easy to make, but inexpensive as well. With healthy, affordable ingredients and simple preparation, these three dinner ideas should feed your family without breaking the bank.
1.    Sour Cream Noodle Bake–I love this recipe! So simple and so tasty. Egg noodles make for great filler, and you can substitute ground turkey for hamburger with no problems. Nice and mild for picky eaters and a guaranteed family favorite. It is almost like a super easy lasagna, only cheaper.
2.    Chicken and Black Bean Enchilada Casserole – I love adding beans to meals. It is such a cheap, healthy and nutritious way to fill everybody up. This recipe is very easy to put together and the taste is well worth it. I love spicy food myself, but you can change the recipe up to fit your family's tastes. With shredded chicken, a little goes a long way. This is a great meal to make with leftover chicken from another recipe!
3.    Million Dollar Spaghetti – The taste is worth a million dollars, though the price tag is super affordable! This yummy meal is filled with the best of dairy: cheddar, cream, and cottage cheese and sour cream. Yum! Add ground beef (or ground turkey for a healthier alternative), spaghetti and some sauce and you have a yummy, affordable meal the whole family will love.
These are just three samples of the wonderful variety of easy and affordable meal ideas I've discovered on Pinterest. There are so many great dinner recipes, wonderful snacks, delicious desserts, and appetizing appetizers that you could make a new recipe for every meal every day and never run out of ideas.
Author Byline:
Allison once she graduated from college, as it allowed her to combine her two passions: writing and children. She has enjoyed furthering her writing career with www.nannyclassifieds.com .  She can be in touch through e-mail allisonDOTnannyclassifiedsATgmail rest you know.