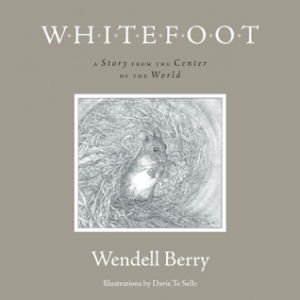 If there is anyone in this world to seek out for wisdom on the dismal state of our government and the global economy, it is Mr. Wendell Berry. As an author, teacher and family farmer, Berry has written more than 40 works of fiction, nonfiction and poetry which advocate a different life than the one currently supported by global free trade and corporate capitalism. His is an understanding that is unmatched in a world full of greed, violence and ignorance, and anyone looking for honest clarity about the United States' current state of affairs should read his work for enlightenment.
Wendell Berry was born on August 5, 1934 in Henry County, Kentucky. The son of a lawyer and tobacco farmer, Berry's ancestral line can be traced back to the farms of Kentucky for more than 200 years, and this familial tie to the land is where Berry's deep connection to agriculture and local economics first began.
After earning his master's degree in English from the University of Kentucky, Berry attended Stanford University's creative writing program as a Wallace Stegner Fellow. He also took part in a Guggenheim Foundation Fellowship and eventually became an English and creative writing professor at New York University's Bronx Campus (now Bronx Community College) and the University of Kentucky.
After resigning from his position at the University of Kentucky, Berry settled on his farm near Port Royal, Kentucky. He has been living a fairly simple, yet extraordinary, life on this land ever since. While caring for his farm, Berry has found the inspiration he has needed to write vast amounts of poems, essays and stories that highlight the importance of sustainable agriculture, strong local economies, thoughtful use of technology, reverence to nature and human connection to and affection towards the land.
For those interested in learning more about the tottering state of American agriculture and emergency preparedness, Berry has written several essays on these topics. Below is a list of some of the best Wendell Berry books on the topic of farming and food production.
· The Unsettling of America: Culture and Agriculture
· The Way of Ignorance: And Other Essays
· The Gift of Good Land: Further Essays Cultural and Agricultural
· The Art of the Commonplace
· Citizenship Papers
· Another Turn of the Crank
Berry's writings are not written in a way that chastises his readers. On the contrary, his works are written to engage others in the debate, forcing us to always ask questions about our motives and the consequences of our actions in both the short and long term.
Recently, Wendell Berry was asked to deliver the 2012 Jefferson Lecture, a high honor that the federal government gives to those of "distinguished intellectual achievement" in the humanities. Berry's lecture was titled "It All Turns on Affection," a title that sums up his motivation in life rather nicely and speaks volumes of his preferred techniques for restoration.
To learn more about Mr. Wendell Berry's writings, visit his official webpage at WendellBerryBooks.com. Berry's books may be purchased at all major book retailers, both in store and online.
Mariana Ashley writes about educational topics for www.OnlineColleges.net. She welcomes your questions and comments at mariana.ashley031 (at) gmail.com.