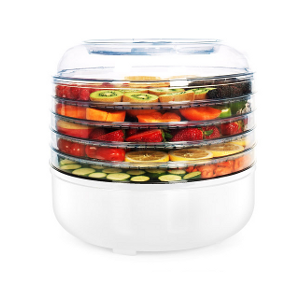 Preparing for emergency food storage can require as much thought as preparing for long term food storage. In fact the same type of planning is necessary but the items may be different. Each person's needs must be addressed and planned for. A short term emergency usually means that things will be back to normal in a few days or hours.
Sometimes you can see the emergency coming, like in the case of a hurricane or a big winter storm, but most of the time an emergency situation happens suddenly and you won't have time to get ready. The power will probably go out along with the water. Preparing for a few days of emergency food can be fun and you can prepare lots of the food yourself.
Dehydrated food
Dehydrating food is a fun and economical way to preserve the foods you eat every day. Fruits, vegetable, and even meat and fish can be dehydrated. It saves you money and you can dehydrate entire meals for emergencies. To begin you will need a food dehydrator.
A food dehydrator will cost between $50 and $300 dollars. Get one that is easy to use and has a few nice features.
Adjustable temperature settings – Different foods need different temperatures so dehydrate properly. Meats require a higher temperature around 150° while fruits and veggies are lower temperatures around 100°.
Timers that Shut off – This feature is for convenience. Food can take significant time to dry so being able to leave for work and not sit around watching your food dehydrate will be a big bonus
Fans – Dehydrating food without a fan can take a long time and end up with non uniform drying. A fan will make the process more efficient and make the end result better.
Easy to use – Dehydrators have trays that you place the food on and the size and shape of the tray can make things easier. Trays that have the ability to slide in and out to check and rotate food make everything much easier.
Dehydrating meat
Dehydrated meat can last several months if stored in a dry place and last up to 1 year if stored in a vacuum sealed container. Deli meat can be sliced up and dehydrated and then eaten like beef jerky. You can also dehydrate ground meat, turkey and even fish. Do not dehydrate raw foods for obvious reasons and adding breadcrumbs to grounds meats can keep them tender once they are ready to eat.
Dehydrating Vegetables
Dehydrating vegetables is one of the easiest foods to prepare. It is also a great way to save the surplus from your garden if you have one. Peppers, onions, broccoli, and tomatoes are all easy to prepare and dehydrate and will add flavor and nutrients to your food storage.
Dehydrating Fruit
Fruit is another easy food to prepare. Cut the fruit into small squares and spread them on your tray for dehydrating. It can take more time to dehydrate fruit, in some cases a few days, but it's worth it. Wash and peel fruits to remove any excess skin or pesticides. Store it in a cool dry place to preserve its life once it's dehydrated.
It Works
Dehydrated food removes the water and moisture so bacteria cannot cause spoilage. When stacking multiple food types into the dehydrator remember that the flavors will rise from the bottom to the top causing the top layers to gain new flavor from the bottom. So if you don't want your strawberries tasting like onions be careful.
Eating dehydrated foods is delicious. A common way to eat your food is to combine the ingredients in a broth mix to make a delicious soup.
Make crunchy and healthy snacks and meals for your emergency food storage. Don't be afraid to experiment and have fun.
Looking for another food storage option? Legacy premium food storage is a healthy option for buying food storage. Dehydrating your own food can last for a few years but the Legacy Premium food can last up to 25 years because of the high quality freeze dried and dehydrated food processes used and stored in Mylar pouches. It is an inexpensive way to get your food storage needs under control without dehydrating and packaging your own foods.
ABOUT THE AUTHOR: Lee Flynn is a freelance writer and expert in emergency food preparedness and long term food storage