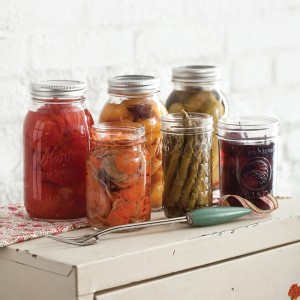 Author and food blogger Marisa McClellanwas initially drawn to canning and preserving because it produces something that endures – there's a finished product that you can enjoy over time. Her mom taught her the basics but it wasn't until she started shopping at farmers' markets that she realized she could buy produce in season and make it last throughout the year.   Her book Food in Jars: Preserving in Small Batches Year-Round offers year-round canning tips
Book Description:
 Popular food blogger Marisa McClellan takes you through all manner of food in jars, storing away the tastes of all seasons for later. Basics like jams and jellies are accompanied by pickles, chutneys, conserves, whole fruit, tomato sauces, salsas, marmalades, nut butters, seasonings, and more. Small batches make them easy projects for a canning novice to tackle, and the flavors of vanilla bean, sage, and pepper will keep more experienced jammers coming back for more.
Sample some Apricot Jam and Rhubarb Syrup in the spring, and then try your hand at Blueberry Butter and Peach Salsa in the summer; Dilly Beans and Spicy Pickled Cauliflower ring in the fall, while Three-Citrus Marmalade and Cranberry Ketchup are the harbingers of winter.
Stories of wild blackberry jam and California Meyer lemon marmalade from McClellan's childhood make for a read as pleasurable as it is delicious; her home-canned food—learned from generations of the original "foodies"—feeds the soul as well as the body in more than 100 recipes.
Country Living Magazine March 2013
Comments
comments