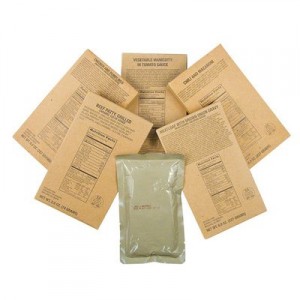 MREs — or Meals Ready to Eat — have developed a horrible reputation among the fighting men and women for whom they were invented.
Bestowed by service members with nicknames like "Meals Rarely Edible" and "Meals Rejected by Everyone," these long-lasting military food rations are built to withstand a 1,250-foot parachute drop, but can they withstand their reputation as barely edible, tasteless bricks of calories — are MREs really as bad as everyone says?
Picture Credit- Captain Dave's Army Navy Supply on Ebay
Certainly Not a Home-Cooked Meal
The reality is that no soldier, sailor, airman or Marine will ever tell you that he or she has eaten an MRE that reminded him or her of home.
Stuffed with calories, vitamins and minerals, MREs are packed in extra-tough plastic pouches and designed to have a scary-long shelf life. They can be scarfed down cold or heated with an enclosed, water-activated flameless heater. They're consumed during short breaks or while on the move. It's the fastest fast food in the (Read More....)
[...]